Get the hot tub ready because his excellence is coming back in. Lee Chaolan revealed at Gamescom!
Story Mode details also included in the announcement. The Mishima family story will be revisited featuring Young Kazuya and Young Heihachi.
Characters will have special Story Mode outfits.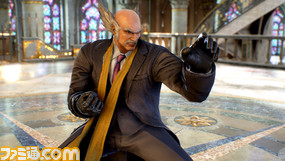 Claudio's backstory as an exorcist belonging to the "Archers of Sirius" touched upon in his profile.
クラウディオ・セラフィーノ Claudio Serafino
格闘スタイル:シリウス流祓魔術
国籍:イタリア

 古の時代より、この世ならざる怪異を祓い続けてきたエクソシスト集団、シリウスの射手。その特殊性により、公にはその存在が知られていないシリウスの射手に、どこで情報を掴んだのか、三島財閥がコンタクトを取ってくる。その内容は、三島財閥の傘下に入るよう促す高圧的な要求であったため、当然のように断りを入れるが、三島財閥は何度もしつこく要求し続けてくるのであった。

 やがてその話は、シリウスの射手の実質的な代表であるクラウディオ・セラフィーノの耳にも届くようになっていた。クラウディオは相手の真意を掴むため、調査を開始するのであった。
New Stage reveal.

sources:

@Harada_Tekken
Famitsu