Tekken Twitch Archive
1st Place: Y3,000,000 + Championship Ring + Exclusive Champion player card theme
2nd Place: Y1,500,000
3rd Place: Y500,000
Preliminaries are conducted in Round Robin. There are a total of 8 blocks with one winner from each block moving on to top 8.
Participants
A: Yuyu, Vanex, Gen, Knee
B: Maxi, Devil, Morugorudu, Double
C: Silika, Tissuemon, Karei, Taku
D: Henbokuhejoburuka, AK, Shudi
E: AO, General, Okaty
F: Nobi, Mr.Naps, Secret
G: Tondak Love, Fukamichi Quest, Dandi
H: Bloodhawk, S.H.O.W, Help Me
For top 8, the winner of each block draw a number and place their name in a double elimination bracket in order of their drawn number.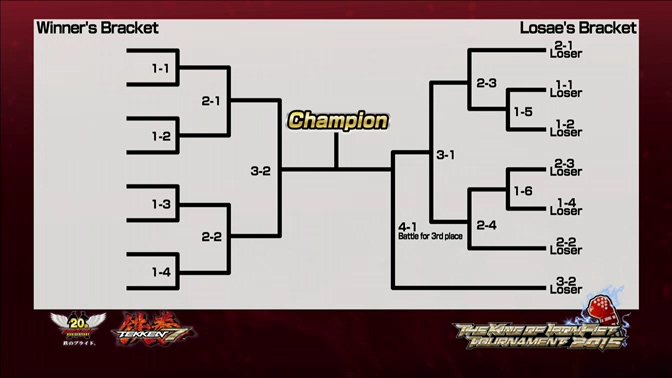 Results:
1st: Nobi
2nd: Knee
3rd: AO
4th: Double
5th: Taku
5th: Help Me
7th: Tondak Love
7th: Shudi
Overall, it was a great tournament. Lots of fun and exciting matches played. Hopefully we get to see it again next year. Get ready for the next battle!